ANATOMY LESSON
a medical memoir
How do I thank a stranger whose death saved my life?
Empathy comes from the Greek Empatheia – em (into) and Pathos (feeling).
A journey into the feelings, thoughts or attitudes of another.

The battle of being mortal is the battle to maintain the integrity of one's life. ~ Atul Gawande
Anatomy Lesson performance at Drexel University, Philadelphia Video stills by Brian Siano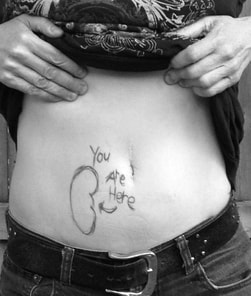 Anatomy Lesson​ is my contribution to help spread awareness about kidney disease and organ donation. It's my way of thanking the medical community, my family, friends, and my donor's family for making it possible for me to be here today. With humor and poignancy, I tell the history of my family and our unwanted genetic inheritance: the kidney disease Alport syndrome. It's a story about my relationship with my siblings during the years of our illness, my time spent in a hemodialysis clinic and how I finally became a transplant recipient. It is also a story about my enduring relationship with my young donor, who in losing his life gave me back my own. On my journey from sickness back to health I learned that it's not enough to survive, you also need to find a way to thrive.
Anatomy Lesson shows how my experience with chronic illness can be a pathway to creating connections between us all.
Professional Feedback
Joy Cutler's spirit is as flexible and strong as thread made of silk and cable. During the performance I was reminded that that the thread of life is tied to the spirit that captures the body throughout its journey. For me the show was about how Joy renegotiates her fate by telling her story that is at turns endearing, funny, and heart breaking.
Tony Errichetti, Director of Doctor-Patient Communication AssessmentCutler's performance creates an intimate, candid and relevant picture of the many issues involved in receiving an organ transplant. This play is an essential experience for anyone who knows an organ hopeful, recipient, or donor as well as the professionals and loved ones who witness this precarious life exchange.

Eva Z. Abrams Ph. D. Psychologist

As a practicing physician I was blown away by this intimate look at inheriting a scary genetic destiny, the experience of living with chronic illness on dialysis and most of all, the reality of coping with the complex emotions that waiting for and getting a transplant engender. Ms. Cutler's work puts each of us right up against our own mortality. This show should be seen by everyone working in the health care field. If I could, I would make it required viewing for every medical and nursing student.
Ellen Mason MD, Cook County Hospital
---
Audience Feedback
My husband and I went to see Joy Cutler's solo performance several months after his liver transplant. It gave me my first true recognition of the breadth of my own experience and what we were soldiering through together and individually. For my husband, he found that even though his and Joy's transplant stories were very different, the kinship, familiarity, and bond with her was very comforting. She acknowledged aloud - in unvarnished language but with appropriate and therapeutic humor - what a big deal this miracle is. A.S.

In your theatrical voice you always manage to embellish startling poignancy with silliness, not just for the absurd moment, but truly to embellish the truth you reveal. In this show that truth, while universally human, is also individualistically personally about you. B.L.

We so enjoyed and appreciated your piece tonight. I do hope you will move it forward to the Gift of Life program... It is remarkable. R.G.

I returned from Church a little while ago and thought I would respond to last night's work of art. I think art is a verb. It's an act of giving, so an act of love. All great art, to me, is truth. I witnessed that last night. What a display of courage! J.B.

The way you told your story gave us permission to laugh. We could not have heard you if we were snared by pity, but instead your humor and inventiveness kept us on track. The whole thing was truly ingenious. D. H.


Anatomy Lesson is designed for general theater audiences, medical colleges and conferences, and organ donor and transplant organizations.

​

​Copyright Joy Cutler 2016 All Rights Reserved

​

​



​Anatomy Lesson has been presented at:
Arcadia University's Genetic Counseling Program, Glenside, PA
Drexel University Theater Department, Philadelphia, PA,
Philadelphia College of Osteopathic Medicine Simulation Center
Workshop Theater with the Simulation Medicine Studio, New York City
Homer Council of the Arts, Homer, Alaska
Philadelphia SoLow Festival
Simulation in Medicine Conference, Philadelphia, PA
Last Frontier Theatre Conference, Valdez, Alaska
Open Meadow Zen Center, Lexington, MA
The Rotunda, Philadelphia, PA
The Red House Speak Easy, San Francisco, CA





​